2019 Volvo XC40 T5 AWD R-Design Road Test Review
June 16 2019, Trevor Hofmann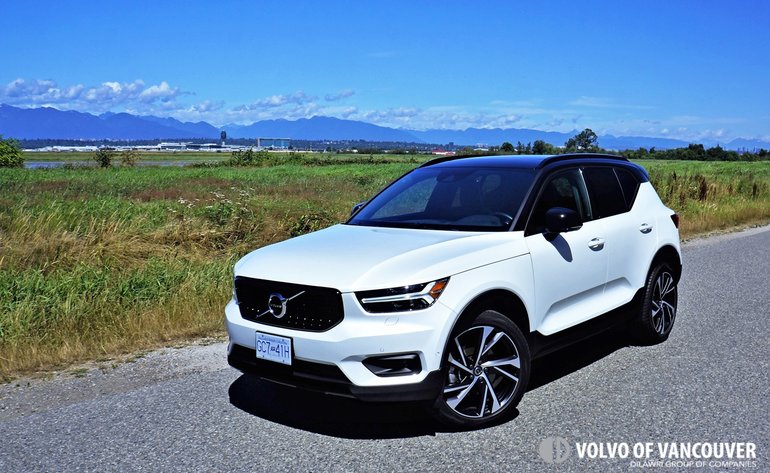 XC40 leads all competitors in safety
It would be difficult not to appreciate all that Volvo has accomplished over the past four years, and the success enjoyed since it has completely redesigning its model lineup. From styling, interior design and quality, to electronics, advanced drivetrains, performance, and of course safety, Volvo now leads its key luxury competitors in most every respect, and nowhere is this more evident than with the all-new 2019 XC40.
Safety has long been a top priority at Volvo, most recently evidenced by the XC40 being reviewed here, which has already achieved a best-possible Top Safety Pick + rating from the Insurance Institute of Highway Safety (IIHS). Notably, the XC40 is the only vehicle in its class to earn a Top Safety Pick + rating this year, while only two others managed the lesser Top Safety Pick rating (minus the +), so if safety is high on your list of subcompact luxury SUV attributes, search no further than this impressive little SUV.
Of course, even Volvo knows that safety isn't sexy enough to make the new XC40 a success on the sales charts, so fortunately the new model provides plenty of additional qualities that are starting to attract a solid following. Styling is usually top of the list when it comes to pulling in interested buyers, and to that end the XC40 is a home run. It's unique and original, yet provides a good balance between elegance and sport.

R-Design trim provides sporty styling and enhanced handling
I spent a week with a nicely optioned base Momentum model, finished in stunning light pastel Amazon Blue with a white roof, that caused more smiles and thumbs up than anything I've driven in months, while the Crystal White Pearl Metallic version being reviewed here, is downright sporty thanks to its R-Design trim, which provides tasteful glossy black accents all over, plus some unique styling details and gorgeous optional 20-inch diamond-cut alloy wheels.
Once inside it's easy to see that Volvo has raised the game in this subcompact SUV class. It starts with the segment's usual fabric-wrapped front roof pillars and soft-touch composites across the dash-top and top half of each door panel, while the armrests get the normal stitched-leatherette covered padding. Just above, stylish textured aluminum inlays wrap around to the instrument panel, looking and feeling authentic, while the latter area gets four of the coolest looking vertical satin silver-finished aluminum vents I've seen in this category, adding a little funk to this otherwise clean and uncluttered cabin.

Interior quality and refinement impressive
Yes, the XC40's interior typifies modern-day Volvo, which means that it's tasteful with only the most necessary controls included. All of the metal accents are impeccably finished, particularly the knurled aluminum ringing each one of those vents' circular controllers, as well as a similar treatment given to the larger knob that adjusts audio volume. Likewise, all of the other XC40 knobs, switches and buttons are well executed too, even surpassing some of its closest rivals.
Continuing on this theme, my R-Design tester's special contrast-stitched and perforated leather-wrapped sport steering wheel is beautifully detailed, even including some of the aforementioned satin-silver detailing, while a similarly level of near handcrafted bespoke quality transformed the electronic transmission's shift lever into a piece of modern art. The XC40 R-Design's upscale experience continues over to the seats' sensational looking leather and suede-style Nubuck upholstery, the latter wonderfully plush and genuine, not the usual faux microsuede used by competitors. Volvo also adds a sporty set of rubberized metal foot pedals ahead of the driver, making it clear that this R-Design is the ideal choice for those wanting a bit more sport to complement the XC40's generous dose of luxury.

Thoroughly comfortable and accommodating for passengers and cargo
The driver's seat is particularly comfortable, thanks to bigger side bolsters than average in this class, and an extendable lower cushion that cupped nicely under the knees. Likewise, rear seating is also comfortable and properly proportioned, even good for large six-foot-plus passengers with room to spare. Rear occupants also receive a flip-down centre armrest that doubles as a centre pass-through for hauling long cargo like skis. This is a Swedish SUV after all, so don't think they'd forget to provide for winter sports.
The luggage compartment was more than adequate for my needs throughout my busy weeklong test too, its 586 litres of space easily accepting my allotment of daily gear, while its 917-litre capacity when all seats were laid flat allowed for even greater usefulness when called upon. Better yet, the 60/40-split portions of its rear seatback only need the touch of a cargo wall-mounted button to lay flat, while adding to the XC40's convenience is a cargo floor that can be pulled upwards at centre, creating a handy divider topped off with three grocery bag hooks. Alternatively, the cargo floor can be positioned as a small shelf when needing to increase loadable surface space.

Nothing competitor comes close to offering as much thoughtful convenience
The XC40's practical theme turns into ultra-convenience when moving back up front, mind you, with the pockets in its door panels carpeted and large enough to stow a 15-inch laptop plus a large drink bottle; its glove box hiding a useful hook that can be flipped outwards to hang a purse or shopping bag; a waste bin within the centre console capable of being removed for cleaning; an optional storage box below the driver's seat ideal for hiding valuables; a parking pass holder placed next to the driver's side windshield pillar; gas/credit card slots integrated within the instrument panel just to the left of the driver's knee; and more.
Additionally, the lower portion of the centre stack features a rubberized shelf for securely holding large smartphones, and is capable of wireless charging with an upgrade, while there's room enough to stow items like sunglasses to each side. Volvo also includes a 12-volt charger and two USB ports within this compartment, one dedicated to Apple CarPlay or Android Auto smartphone integration, and the other only for device charging (three USB ports come standard). Add up all of the XC40's plentiful conveniences, and it's easy to understand why it won European Car of the Year in 2018.

XC40 leads its segment in advanced digital interfaces
Of course, as you're likely starting to realize, there's much more that makes the XC40 a good choice in the subcompact luxury SUV class. Additionally, it's more technically advanced than any peer, thanks to a standard 12.3-inch colour TFT digital gauge cluster that provides loads of key information within a bright, colourful, crystal clear high-definition display. It can even fill the centre portion with available navigation mapping, making it easy to follow route guidance directions without removing eyes far from the road ahead. That no rival offers such large, featured filled digital gauges in standard trim, with most not even providing this level of advanced in-car technology as an option, gives the XC40 a significant advantage in this class.
What's more, positioned vertically atop the XC40's centre stack is Volvo's award-winning Sensus infotainment system, a 9.0-inch interface that looks and responds more like a conventional tablet than anything from any rival. Truly, if you're familiar with any modern smartphone you'll be right at home with this touchscreen, as you only need to tap, pinch or swipe it to perform a plethora of functions. Most competitive touchscreens only allow such hands-on gesture controls with their navigation system's mapping, but Volvo's Sensus system also lets you adjust temperature settings with an innovative vertical readout for each front occupant's zone, which pops up on the appropriate side of the screen and lets you and your companion slide a finger up and down to heat or cool. It's an innovative, intelligent, an inherently easy way to set interior temperatures, and just one way this system improves of most rivals.

The touchscreen also allows control of all audio functions including streaming Bluetooth, satellite radio, 4G LTE Wi-Fi, plus more, while my Samsung S9 connected easily, both via Bluetooth and when plugging it in for previously noted Android Auto. It's a nicely designed interface that's minimalist on graphics, yet nevertheless one of my favourites, and thanks to being no more difficult to use than a regular smartphone should be easy enough for most anyone to operate.
A couple of inches below sits a narrow strip of high quality switchgear that provides quick access to regularly used climate controls, as well as audio functions, the latter via the previously mentioned knurled aluminum-rimmed volume knob, plus the hazard lights, and finally a drive mode selector that includes Eco, Comfort, Dynamic, Individual, and optional (not available with Momentum trim) Off-road settings.

XC40 provides a generous load of standard features
As stated earlier, the navigation system isn't standard either, but instead is optional for $1,000, although the XC40's list of standard features is lengthy, including almost everything noted to this point, plus LED headlamps, roof rails, remote engine start, pushbutton ignition, a leather-wrapped multi-function steering wheel, an electronic parking brake, rain-sensing wipers, an auto-dimming interior mirror, automatic climate control, voice activation, heated front seats, a power driver's seat with four-way lumbar and memory, genuine aluminum inlays, and a number of advanced safety features such as forward collision warning, autonomous emergency braking, lane departure warning and mitigation, plus more, all helping it earn the IIHS Top Safety Pick + rating noted earlier in this review. With a price of just $39,500 plus destination, the XC40 is easily one of the best values in its luxury SUV segment.
The XC40 shown in this review is dressed up in sporty R-Design trim, which starts slightly higher at $44,100. It features all the previously-noted upgrades as well as a bigger set of 19-inch alloy wheels (although my tester was outfitted in available 20-inch rims and rubber) rolling on a more capable sport suspension, while additional enhancements include a special front grille with gloss-black trim, blackened skid plates, inky black mirror caps, and yet more glossy black exterior accents, plus the black-painted roof noted before.
What's more, the R-Design includes a set of active-bending headlights, fog lamps, exposed dual exhaust pipes instead of the hidden tailpipes found on the Momentum, a special set of aluminum front treadplates, upgraded carpeting, additional interior illumination, dual-zone automatic climate control, a powered front passenger's seat, the extendable lower front seat cushions mentioned earlier, a large panoramic glass sunroof, a black roofliner and pillars (in place of beige), aluminum cargo sill protectors, plus more.

Volvo's smallest offers a big dose of available options
Volvo enhanced my tester with a Premium Package too, which incorporates the wireless charging pad I noted before, plus the underseat storage compartment and grocery bag holders, plus headlamp washers, power-folding and auto-dimming exterior mirrors, heated wiper blades, a heatable steering wheel, heated rear seats, a powered liftgate, as well as Blind Spot Information System with Cross Traffic Alert, all for a mere $1,750.
Fortunately for me my tester also included the $2,000 Premium Plus Package that features a 360-degree "Surround View" overhead camera system, a HomeLink universal garage door opener, adaptive cruise control, Volvo's proprietary Pilot Assist semi-autonomous Driver Assistance System (a hands-on partial-self-driving system that ideally eases highway driving), the semi-autonomous Park Assist Pilot parking system featuring Park Assist front and rear sensors, and a 12-volt power outlet in the cargo compartment; plus the $1,000 navigation system I mentioned earlier was added too, along with a wonderful sounding 14-speaker, 600-watt Harmon-Kardon audio system for just $950.
Prior to Volvo initiating its brand-wide redesign in 2015, its current powertrain strategy began showing up in its then-current model lineup. Unlike any other automotive brand, the Swedish firm chose one advanced turbocharged 2.0-litre four-cylinder engine to power its entire line, retuning it with a combination of turbocharging and supercharging for mid-range models, and, as initially introduced with the XC90 and then the XC60, a turbocharged, supercharged and plug-in hybrid variation that makes 400 horsepower and 400 lb-ft of torque.

XC40 to help usher in a new era of Volvo hybrid and electric powertrains
Right about now I can imagine many reading this review might find the thought of a 400-horsepower XC40 enticing, but Volvo will take a different tack with its smallest SUV as learned in an announcement made back in February of this year, when they promised to bring a plug-in variant good for 184-net-kW (247-net-hp) and 328 net-lb-ft of torque. Still plenty powerful, this T5 Twin Engine model's electric motor is combined with a 1.5-litre three-cylinder gasoline engine driving the front wheels. Reportedly, an even thriftier T4 Twin Engine will follow, plus a full electric version XC40 will be revealed before this year ends, all of which plays a role in Volvo's initiative to electrify 50 percent of its global sales by 2025.

Back to 2019, the more conventionally powered current XC40 has already become Volvo's second best-selling model worldwide (behind the XC60), much thanks to a highly efficient yet very potent 2.0-litre turbocharged four-cylinder capable of 248 horsepower and 258 lb-ft of torque, which drivers all four wheels in standard trim, via an eight-speed automatic transmission. Of note, the upcoming 2020 model year will include a new base four-cylinder engine, still displacing 2.0 litres and once again turbocharged, plus continuing to utilize an eight-speed automatic gearbox and AWD, but it will be dubbed T4 and provide 187 horsepower and 221 lb-ft of torque. My tester's R-Design trim, plus the more luxuriously appointed Inscription model, will maintain today's T5 engine as standard.
I'll need to wait to a future test to find out how the T4 performs, but my test model's T5 powertrain is an excellent match to the lightweight XC40, providing plenty of off the line jump and strong acceleration up to highway speeds and beyond, while its eight-speed automatic responds well, with snappy, immediate gear changes, particularly when set to its sportiest "Dynamic" mode, a process made even more enjoyable when flicking though this R-Design model's steering wheel-mounted paddle shifters.

Strong performance combined with impressive quietness and comfort
Handling is also impressive. Certainly my test model's upgraded 20-inch tires played their part in adhering chassis to tarmac, plus of course the R-Design's enhanced sport suspension, but as noted earlier I tested the base Momentum and it was a deft handler too, all XC40 trims rolling on a fully independent suspension setup comprised of aluminium double wishbones up front and a unique integral-link design featuring a lightweight composite transverse leaf spring in the rear. All in all my R-Design took to fast-paced corners with grace and confidence-inspiring composure, was a delight on the open highway thanks to a solid, substantive feel, and was plenty of fun to pilot through the city, its elevated seating position helping to increase visibility all-round. Also positive, the XC40's brakes are very strong, responding quickly and stably no matter the situation.
The XC40's ride is comfortable for such a small crossover SUV too, and despite the larger rolling stock I didn't feel any noticeable difference when comparing the R-Design to the base Momentum that features a softer Dynamic" suspension setup and wore 18-inch alloys. I should also mention that Volvo offers an adaptive Four-C Chassis for an additional $1,000, something that would certainly be worth trying.
As it is, both XC40 models I've driven came across like they were larger, more substantive SUVs than they truly were, their doors and liftgates shutting with the sound and solidity of much bigger utilities, plus they were both extremely quiet inside and exuded impressive build-quality all around, particularly when encountering broken bits of pavement, driving through potholes, riding over bumps, and dealing with other on-road challenges.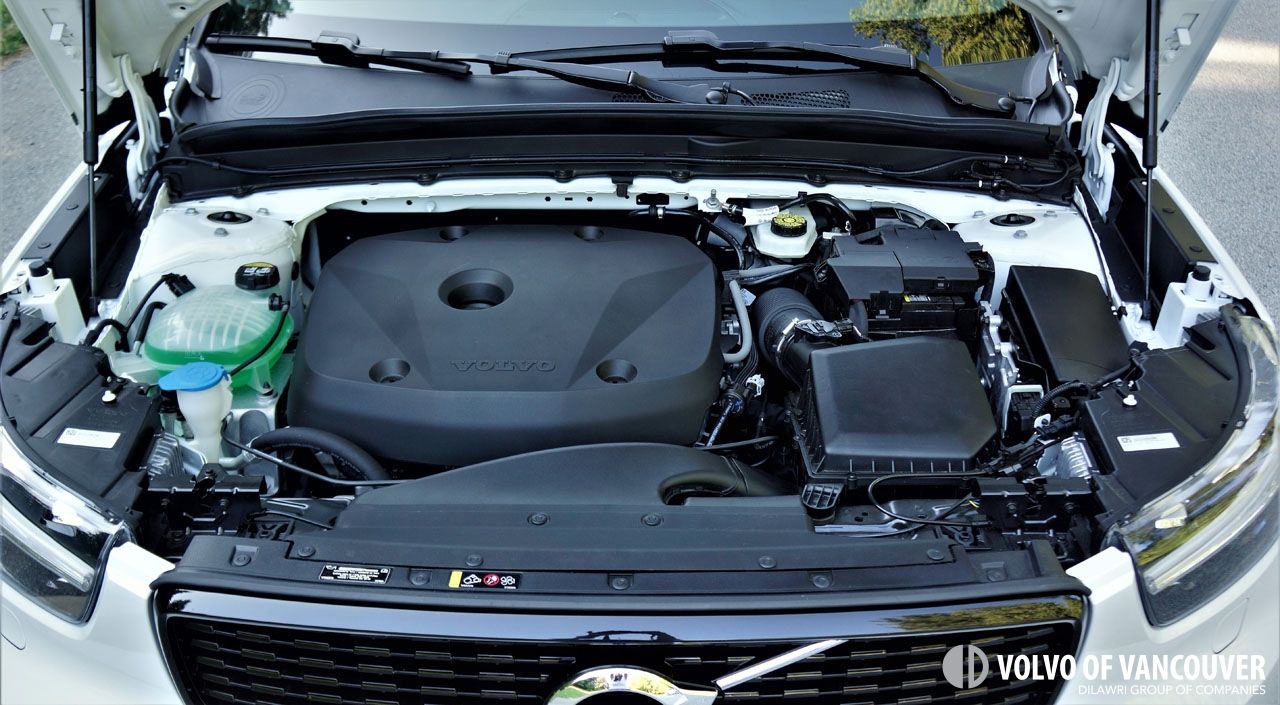 One of the most efficient SUVs in its class
Fuel efficiency is another XC40 boon, and not just because it's a small SUV. It achieves a Transport Canada rating of 10.3 L/100km in the city, 7.5 on the highway and 9.0 combined, which is quite a bit better than all of its all-wheel drive equipped non-hybrid competitors. Like most in this class the XC40 utilizes an auto start/stop system to improve efficiency and reduce emissions, a technology that automatically shuts down the engine when it would otherwise be idling, and then quickly restarts it when needing to take off.
I'm guessing you can likely tell this little Volvo SUV left me with a good impression. In fact, I'll go so far to say that I think it's one of the best compact luxury SUVs in its class, and totally worth your close attention. The XC40 combines a quiet, comfortable ride with good handling characteristics, strong straight-line acceleration mixed with stellar efficiency, a comfortable, accommodating, and wonderfully crafted cabin that's filled with thoughtful, convenient touches, and best-in-class safety together with a value proposition that's hard to beat, all making it easy to understand why it's starting rack up the awards.

To learn more about the impressive new 2019 XC40, give Volvo of Vancouver a call at (604) 325-1000, or come visit us at 8530 Cambie St, Vancouver, just south of Marine Drive behind the new Marine Drive Skytrain Station and Marine Gateway shopping complex.
Story credit: Trevor Hofmann
Photo credit: Karen Tuggay